/* Moved the getChildHtml function above the page title display block (Spring 2018)*/ ?>
Get To Know The Studio
Meet Rachel
Get to know our studio a little bit better! We've asked a series of five different questions to each member of our design studio. This month we are highlighting Design Director Rachel Doriss. She started working at Pollack back in 2000 and became Vice President, Associate Design Director in 2007. Shortly thereafter, she became Pollack's Design Director and our very own textile guru. Read more about her below.
1. What got you interested in textile design?
 I can't remember a time in my life that I wasn't aware of cloth. One of my earliest memories is lying on my parent's bed and staring up at an embroidered Mexican tapestry hanging on the wall above the bed. I noticed inconsistencies in the hand embroidered motifs and wondered why they were different from one another. 
My grandmother was a weaver and she knew all of the textile arts! She taught me how to sew, crochet, and knit. My fondest memory is when I was in third grade, she sewed curtains for me out of an old white sheet. I splatter-painted them with multiple colors—which I guess was technically my first surface design project—and the result was perfectly 80's in 1983. 
My passion for textiles continued into my college years. I was an art major at UMASS Amherst for 2 years and then realized that I was always working on textiles in my spare time. At that point, I determined that I wanted to study textiles and I transferred to RISD where I graduated with my BFA in Textile Design.
2. What is your favorite thing about your job?
I do many things in my job, but I lose myself when I am drawing. There is something so freeing when I have the time to sit down and use pen and paper to realize a design idea.
3. What advice would you give someone about textile design or about this industry?
There is so much to being a textile designer. It is not just about pattern—it's about fabric design in all three dimensions. There are many things to take into consideration—the fiber, the way the yarn is spun, how the fabric is constructed and colored, and eventually, the end use. If you have a passion for fabric, it is a nice industry to work in because you will be surrounded by other fabric nerds.
4. Who or what inspires you the most?
Fresh air and the natural patterns you can find in nature.
5. What's one thing people would be surprised to know about you?
When I was trying to decide what type of college to go to, it was a tossup between studying art or going into natural healthcare. I'm really happy that I chose art!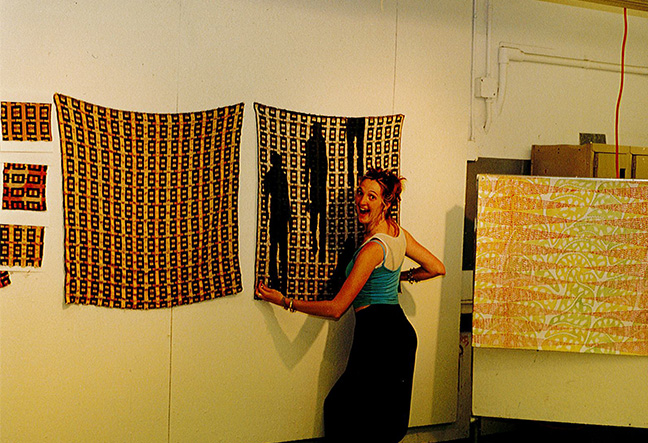 Top: Rachel in art school at RISD. Bottom: Rachel designing in the Pollack studio.
DESIGNS FROM THIS COLLECTION
WALLCOVERINGS FROM THIS COLLECTION